See the BARN FIND HUNTER video below about Porsche barn finds, and KLINGSPOR Accessories in use throughout this episode.
KLINGSPOR's Auto Body offers a wide variety of accessories for your body shop.
• Tack Cloths
• Disposable Rubber Gloves
• Hand Cleaners
• STOKO® DISPENSER
• Box of Blades
• Spreaders
• Mix Boards
• Cheese Graters
• Bristle Discs
• Bargain Box of Rags
• Protection Suit™ disposable nonwoven polypropylene
• Spray Socks

Also available is the Automotive Value Cabinet, which includes everything you need, plus it keeps everything conveniently stowed away from sprays and debris in your shop.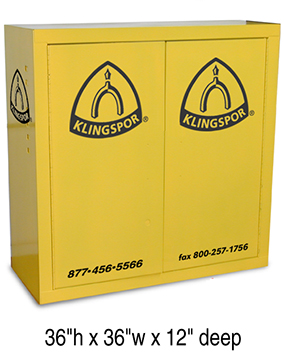 Automotive Value Cabinet includes:
• 1 KLINGSPOR Value Cabinet (36″ height x 36″ width x 12″ deep)
• 1 Box PS 21 80F 2 3/4 x 16 3/4 PSA Discs
• 1 Box PS 21 40F 23/4 x 161/2 PSA Discs
• 2 Rolls Premium Masking Tape 3/4″
• 2 Rolls Premium Masking Tape 2″
• 1 Box Tack Cloths
• 10 Plastic Spreaders
• 1 Tube Dynatron
• 1 Gallon Ultimate Glaze
• 1 Roll PS 33 80C 6″ PSA (no liner)
• 1 Roll PS 33W 180B 6″ PSA (no liner)
• 1 Roll PS 33W 320B6″ PSA (no liner)
• 1 Pack 6 x 9 Fine Non Woven Hand Pads
• 1 Box QRC 36 ZR 3″
• 1 Box Single Edge Razor Blades
• 1 Box 8210 Particulate Respirators
• 1 Box 3 x 1/16 x 3/8 cut off wheels
• 1 Grey Foam Polishing Pad
• 1 White Foam Compounding Pad
• 1 Quart Coarse Cut Compound (removes 800-1000 grit scratches)
• 1 Quart Medium Cut Compound (removes 1000-1200 grit scratches)*
• 1 Quart Top Flight (swirl removal)
• 1 Box of Wet/Dry 400A 9 x 11 Sheets
• 1 Box of Wet/Dry 600A 9 x 11 Sheets
• 1 Box of Wet/Dry 1500A 9 x 11 Sheets